About Eye Bank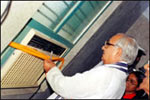 We have a eye bank Seven Keratoplasty operations were done. We have registered (2923) donors so far. Eye donors form fellow which can be fitted in by any prospective donor and sent back to eye hospital for registration. A donor certificate will be issued on the address provided.
Our collected eye balls / Corneas see in Our performance.
Eye Bank Inagurated by Late Krishna Kanth - Ex. Governor of Andhra Pradesh
General Information about Eye Donation
| | |
| --- | --- |
| a) | Only those of legal age (+18 yrs) can enroll as Eye Donors by submitting one completed registration form, although age is no bar to donate the eyes of the departed |
| b) | Age, Sex, bodily (diabetes, blood pressure etc.) and Eye diseases (wearing, glasses, catarect retinal detachnment, Eye Surgery) is no bar to donate eyes as long as front most portion of the eye is, Cornea is healthy |
| c) | One can donate the Eyes of the departed relatives though they have never registered as Eye donors |
| d) | To donate the eyes of the departed, contact nearest Eye Bank/Eye Surgeon at any time of day and night. Eyes have to be removed within 6 hours after death. Till then, keep the eyelids of the departed closed |
| e) | Removal of Eyes will take only 15 to 20 minutes. It will be done right at the place where the body is, at time of day and night, without distiguring the face and without any expense to the donor family |
| f) | The corneal blind, who are about 25 lakhs in our country, can be helped by Cornea Grafting Surgery and not those blinded by other diseases. The whole Eye ball cannot be transplanted or replaced |
| g) | Inspite of enrollment in an Eye Bank, Eyes can be offered to nearest Eye Bank as place of death cannot be predicted |
| h) | Donated Eyes will be collected only after death and a living person's eyes cannot be taken out for grafting purposes. Neither any synthetic material nor animal eye is substitute for human eyes |
| i) | Internationaly accepted ethics refrain us from disclosing the information about Donor and Donee to each other as this is maintained confidential by the Eye Bank |
| j) | When registering yourself as an Eye Donor it is advisable to discuss the matter with your family friends, lawyer, Personal physician etc, because your noble offer may not be fulfilled when the family is ignorant of or forgets this matter |
| k) | Please motivate your friends and relatives to enroll as Eye donors. In the event of anyone's death please find out the possibility of Eye donation and contact the Eye Bank if consent is obtained |
| l) | Please initimate change of address, if any, mention your registration number in all your correspondence |
Eyes are the choicest gift we have been bestowed upon and we would be thanking god by gifting them to the needy.
So far six succesfull transplants have been dore.
We welcome Generous Contributions to promote the cause of Eye Donation for Corneal Blind Remember Eyes are neither purchased nor sold.
General Information about Eye Bank