Miscellaneous Information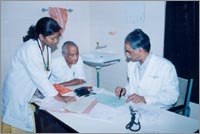 A Cardiology camp was conducted at the hospital twice doctors of CARE hospital Hyderabad examined 300 heart cases and advised treatment after investigations free. Dr B. Soma Raju, Dr D. N. Kumar, Dr Sunil Kapoor conducted the camp. A Diabetology camp was conducted by Endocrine Dept. of NIMS Hyderabad. Dr P. V. Rao and his team conducted the camp and treated patients free medicine were given.
A camp was held by Department of Vascular Surgery of NIMS Hyderabad. Free treatment and advise was given.
A Phako Workshop was conducted at the hospital for lthe benefit of the eye surgeons of the region. Dr Vikas Mahatme, famous Phako surgeon from Nagpur demonstrated on television screen the Phako procedure. 45 doctors from Karimnagar all the neighboring districts attended the workshop.