Introduction History of the Project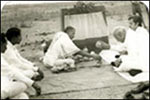 Karimnagar district is apart of North Telangana. This is a back ward region where no worthwhile medical facilities are available.
Villagers with eye problems find it difficult to get treatment, for want of adequate facilities locally & poverty. Preventing them from going the city. To overcome this problem this rural eye hospital was started with latest medical facilities for the villagers.
Located on a three acre site in a village Rekurthi, 6 kms from Karimnagar town, this is serving the villagers since Feb 1988.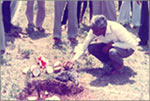 The object of the project is to provide latest eye care to the villagers at his door steps with a minimal or no charge.
We have a well equipped hospital with excellent outpatient services including retinal wing. We also have a well organized out reach programme. The hospital staff visits villages of the district as per schedule and examine the villagers for visual defects, such of those needing glasses are provided at subsidized rates, those in need of surgery are brought to the base hospital for treatment, free of charge. After surgery the patient is sent back to the village, with ten days medicines all free. This free IOL surgery is very popular with the rural masses.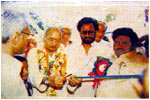 Started Tertiary Eye Centre for treating retinal diseases secondary to diabetes mellitus, hypertension etc. fluorescin, Angiography & Laser coagulation is done routinely. The patient is not required to go to big urban centers for this treatment. Work done is shown cater.
To cater to the remote inaccessible regions of the district, a well equipped satellite centre is started in malakpet village of Konraopet Mandal, Siricilla Region.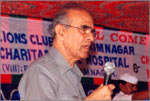 This is a naxalite infested area devoid of any medical help. This was possible because of the help given by Sri C. Anand Rao Ex-MLA of the village. Free transport for the patients from local bus stand to the hospital is provided and also for the out reach programme.
Free food for the inmates is arranged coming for surgery. A fleet of four Buses make possible the conducting of the out reach work and also local transport.