Chairman's Message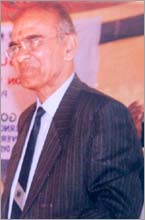 "To see is the right of Human being and no one should remain blind for lack of simple delivery of Eye care".
This basic right was not available to thousands of villagers residing in the backward regions of North Telangana. The Lions of Karimnagar club emulating the spirit of Ms Helen keller, thought of providing this right by establishing 24 years (Established in the year 1988), a rural eye hospital located in a village with all modern facilities to serve the poor.
The following pages give the details of this experiment and its final shape as it stands today. This success was possible only because of the help of the district administration, local & overseas philanthropists, voluntary organizations & LCIF, credit also goes to the co-operation given by large number of our patrons who have accepted our services & encouraged us to grow further.
I hope this partnership amongst the various groups will grow further to make this a ideal eye care centre for the rural masses of North Telangana in the coming years.
- Ln Dr Bhaskar Madhekar, Chairman